David Huber, Pastor, November 2020
Item
Title
David Huber, Pastor, November 2020
Description
Oral history, Pastor David Huber. Eau Claire, Wis.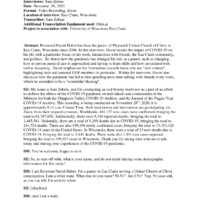 David Huber, Pastor, November 2020
Abstract
Reverend David Huber has been the pastor of Plymouth United Church of Christ in Eau Claire, Wisconsin since 2004. In this interview, David details the impact of COVID-19 on his life with a particular focus on his work, interactions with friends, the Eau Claire community, and politics. He shares how the pandemic has changed his role as a pastor, such as changing how in-person pastoral care is approached and having to learn skills and laws associated with online streaming. David emphasizes his frustrations towards those who are "anti-science", highlighting state and national GOP members in particular. Within the interview, David also discusses how the pandemic has led to him spending more time talking with friends every week, which he considers to be a "wonderful blessing".
New Tags