Annalyse Stratton, Child Care Teacher, December 2020
Item
Title
Annalyse Stratton, Child Care Teacher, December 2020
Description
Oral history, Child Care Teacher Annalyse Stratton. Eau Claire, Wis.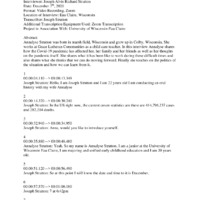 Annalyse Stratton, Child Care Teacher, December 2020
Abstract
Annalyse Stratton was born in marsh field, Wisconsin and grew up in Colby, Wisconsin. She works at Grace Lutheran Communities as a child care teacher. In this interview Annalyse shares how the Covid-19 pandemic has affected her, her family and her friends as well as her thoughts on the pandemic itself. She shares what it has been like to work during these difficult times and also shares what she thinks that we can do moving forward. Finally she touches on the politics of the situation and how we can learn from it.
New Tags