Wyatt Weisensel, Software Developer, November 2020
Item
Title
Wyatt Weisensel, Software Developer, November 2020
Description
Oral history, Software developer Wyatt Weisensel. Eau Claire, Wis.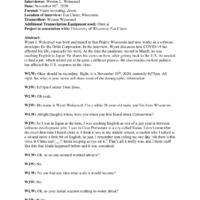 Wyatt Weisensel, Software Developer, November 2020
Abstract
Wyatt J. Weisensel was born and raised in Sun Prairie Wisconsin and now works as a software developer for the Orbis Corporation. In the interview, Wyatt discusses how COVID-19 has affected his life, especially his work. At the time the pandemic started in March, he was teaching English in Japan. He shares his views on how, after getting back to the U.S., he needed to find a job, which turned out to be quite a difficult process. He also touches on how politics has affected the U.S. response to the virus.
New Tags