Catherine Lee, Center for International Education Worker, May 2021
Item
Title
Catherine Lee, Center for International Education Worker, May 2021
Description
Oral history, Center for International Education Worker Catherine Lee. Eau Claire, Wis.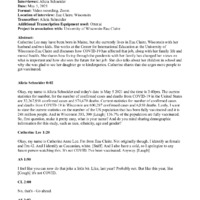 Catherine Lee, Center for International Education Worker, May 2021
Abstract
Catherine Lee may have been born in Maine, but she currently lives in Eau Claire, Wisconsin with her husband and two kids. She works at the Center for International Education at the University of Wisconsin-Eau Claire and discusses how COVID-19 has affected that job, along with her family life and mental health. She shares how living through the pandemic with her family has changed her views on what is important and how she sees the future for her job. She also talks about her children in school and why she was glad to see her daughter go to kindergarten. Catherine shares that she urges more people to get vaccinated.
New Tags