Shawn Berg, Service Manager, December 2020
Item
Title
Shawn Berg, Service Manager, December 2020
Description
Oral history, Service manager Shawn Berg. Eau Claire, Wis.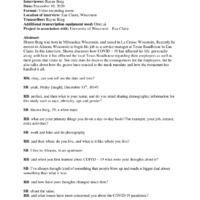 Shawn Berg, Service Manager, December 2020
Abstract
Shawn Berg was born in Milwaukee Wisconsin, and raised in La Crosse Wisconsin. Recently he moved to Altoona Wisconsin to begin his job as a service manager at Texas Roadhouse in Eau Claire. In this interview, Shawn discusses how COVID – 19 has affected his life personally along with how it has effected the local Texas Roadhouse regarding their employees as well as their guests that come in. Not only does he discuss the consequences for the employees, but he also talks about how the guests have reacted to the mask mandate and how the restaurant has handled it all.
New Tags