Anonymous, Nurse, December 2020
Item
Title
Anonymous, Nurse, December 2020
Description
Oral history, Anonymous Nurse. Eau Claire, Wis.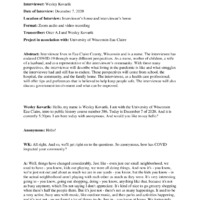 Anonymous, Nurse, December 2020
Abstract
Interviewee lives in Eau Claire County, Wisconsin and is a nurse. The interviewee has endured COVID-19 through many different perspectives. As a nurse, mother of children, a wife of a husband, and as a representative of the interviewee's community. With these many perspectives, the interviewee will describe what living in the pandemic is like and what struggles the interviewee had and still has to endure. These perspectives will come from school, the hospital, the community, and the family home. The interviewee, as a health care professional, will offer tips and preferences that is believed to help keep people safe. The interviewee will also discuss government involvement and what can be improved.
New Tags