Lisa Berghammer, 1st Grade Teacher, November 2020
Item
Title
Lisa Berghammer, 1st Grade Teacher, November 2020
Description
Oral history, 1st grade teacher Lisa Berghammer. Clayton, Wis.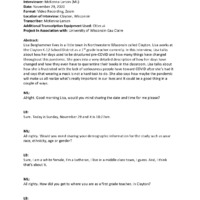 Lisa Berghammer, 1st Grade Teacher, November 2020
Abstract
Lisa Berghammer lives in a little town in Northwestern Wisconsin called Clayton. Lisa works at the Clayton K-12 School District as a 1st grade teacher currently. In this interview, Lisa talks about how her days used to be structured pre-COVID and how many things have changed throughout this pandemic. She goes into a very detailed description of how her days have changed and how they even have to quarantine their books in the classroom. Lisa talks about how she is frustrated with the lack of seriousness people have toward COVID after she's had it and says that wearing a mask is not a hard task to do. She also says how maybe the pandemic will make us all realize what's really important in our lives and it could be a good thing in a couple of ways.
New Tags