Bec Blaedow, College Student, December 2020
Item
Title
Bec Blaedow, College Student, December 2020
Description
Oral history, College student Bec Blaedow. Eau Claire, Wis.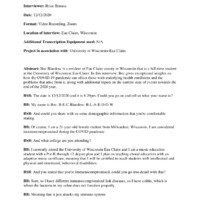 Bec Blaedow, College Student, December 2020
Abstract
Bec Blaedow is a resident of Eau Claire county in Wisconsin that is a full-time student at the University of Wisconsin Eau Claire. In this interview, Bec gives exceptional insights on how the COVID-19 pandemic can affect those with underlying health conditions and the problems that arise from it, along with additional inputs on the current state of events towards the end of the 2020 year.
New Tags