Lindsey Jo Boehm, Nurse's Aide, December 2020
Item
Title
Lindsey Jo Boehm, Nurse's Aide, December 2020
Description
Oral history, Nurses aide Linsey Jo Boehm. Eau Claire, Wis.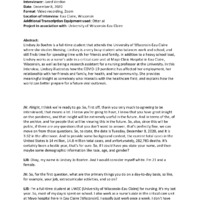 Lindsey Jo Boehm, Nurse's Aide, December 2020
Abstract
Lindsey Jo Boehm is a full-time student that attends the University of Wisconsin-Eau Claire where she studies Nursing. Lindsey is a very busy student who balances work and school, and still finds time for spending time with her friends and family. In addition to a heavy school load, Lindsey works as a nurse's aide in a critical care unit at Mayo Clinic Hospital in Eau Claire, Wisconsin, as well as being a research assistant for a nursing professor at the University. In this interview, Lindsey illustrates how the COVID-19 pandemic has affected her employment, her relationship with her friends and family, her health, and her community. She provides meaningful insight as somebody who interacts with the healthcare field, and explains how the world can better prepare for a future viral outbreak.
New Tags