Alicia Boldt, Special Education Teacher, November 2020
Item
Title
Alicia Boldt, Special Education Teacher, November 2020
Description
Oral history, Special education teacher Alicia Boldt. Augusta, Wis.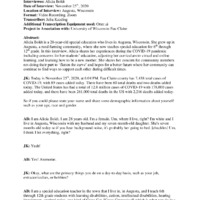 Alicia Boldt, Special Education Teacher, November 2020
Abstract
Alicia Boldt is a 28-year-old special education who lives in Augusta, Wisconsin. She grew up in Augusta, a rural farming community, where she now teaches special education for 6th through 12th grade. In this interview, Alicia shares her experiences during the COVID-19 pandemic including concerns for her students' education, adjusting her curriculum to virtual and online learning, and learning how to be a new mother. She shares her concern for community members not doing their part to 'flatten the curve' and hopes for a better future where her community can continue to find ways to support each other during difficult times.
New Tags