Brooke Dusk, Senior Business Loan Officer, December 2020
Item
Title
Brooke Dusk, Senior Business Loan Officer, December 2020
Description
Oral history, Senior Business Loan Officer Brooke Dusk. River Falls, Wis.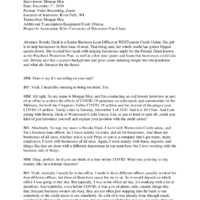 Brooke Dusk, Senior Business Loan Officer, December 2020
Abstract
Brooke Dusk is a Senior Business Loan Officer at WESTconsin Credit Union. Her job is to help businesses in their time of need. That being said, her whole world has gotten flipped upside-down. She worked first hand with helping businesses apply for the Federal Grant known as the Paycheck Protection Plan, as well as other state grants and loans that businesses could take out. Brooke also has a science background and gives some amazing insight into the pandemic and what she foresees for the future.
New Tags