Diane Carothers, Retired Grandmother, November 2020
Item
Title
Diane Carothers, Retired Grandmother, November 2020
Description
Oral history, Retired grandmother Diane Carothers. Fort Atkinson, Wis.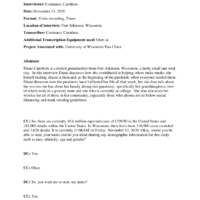 Diane Carothers, Retired Grandmother, November 2020
Abstract
Diane Carothers is a retired grandmother from Fort Atkinson, Wisconsin, a fairly small and rural city. In this interview Diane discusses how she contributed to helping others make masks, she herself making almost a thousand, at the beginning of the pandemic when everyone needed them. Diane discusses how the pandemic hasn't affected her life all that much, but she does talk about the worries she has about her family during this pandemic, specifically her granddaughters, two of which work in a grocery store and one who is currently in college. She also discusses her worries for all of those in her community, especially those who choose not to follow social distancing and mask wearing guidelines.
New Tags