Colleen Marchwick, Director for Center of International Education, December 2020
Item
Title
Colleen Marchwick, Director for Center of International Education, December 2020
Description
Oral history, Director of International Education Colleen Marchwick. Eau Claire, Wis.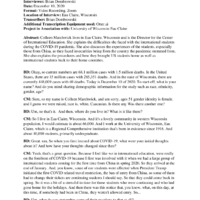 Colleen Marchwick, Director for Center of International Education, December 2020
Abstract
Colleen Marchwick lives in Eau Claire, Wisconsin and is the Director for the Center of International Education. She explains the difficulties she faced with the international students during the COVID-19 pandemic. She also discusses the experiences of the students, especially those from China, as they faced insecurities being from the country the pandemic stemmed from. She also explains the procedures and how they brought US students home as well as international students back to their home countries.
New Tags