Chontay Littlewolf, Starbucks Worker, November 2020
Item
Title
Chontay Littlewolf, Starbucks Worker, November 2020
Description
Oral history, Starbucks worker, Chontay Littlewolf. Fargo, N.D.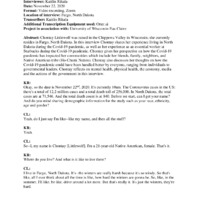 Chontay Littlewolf, Starbucks Worker, November 2020
Abstract
Chontay Littlewolf was raised in the Chippewa Valley in Wisconsin; she currently resides in Fargo, North Dakota. In this interview Chontay shares her experience living in North Dakota during the Covid-19 pandemic, as well as her experience as an essential worker at Starbucks during the Covid-19 pandemic. Chontay gives her perspective on how the Covid-19 pandemic has impacted her communities which include her friends, family, neighbors, and Native American tribe (Ho-Chunk Nation). Chontay also discusses her thoughts on how the Covid-19 pandemic could have been handled better by everyone, ranging from individuals to governmental leaders. Chontay reflects on mental health, physical health, the economy, media and the actions of the government in this interview.
New Tags