Brent Lameyer, Recent Graduate, November 2020
Item
Title
Brent Lameyer, Recent Graduate, November 2020
Description
Oral history, Recent graduate Brent Lameyer. Duluth, Min.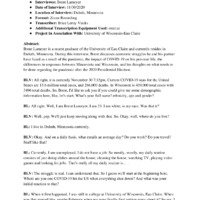 Brent Lameyer, Recent Graduate, November 2020
Abstract
Brent Lameyer is a recent graduate of the University of Eau Claire and currently resides in Duluth, Minnesota. During this interview, Brent discusses economic struggles he and his partner have faced as a result of the pandemic, the impact of COVID-19 on his personal life, the differences in responses between Minnestota and Wisconsin, and his thoughts on what needs to be done regarding the pandemic after the 2020 Presidential Election.
New Tags