Mark Larson, Safety Manager, November 2020
Item
Title
Mark Larson, Safety Manager, November 2020
Description
Oral history, Safety manager Mark Larson. Chippewa Falls, Wis.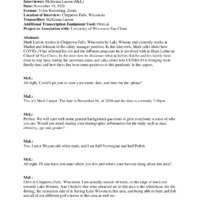 Mark Larson, Safety Manager, November 2020
Abstract
Mark Larson resides in Chippewa Falls, Wisconsin by Lake Wissota and currently works at Market and Johnson in the safety manager position. In this interview, Mark talks about how COVID-19 has affected his job and the different programs he is involved with at Hope Lutheran Church of Eau Claire. In the interview he discusses what activities that he and his family have done to stay busy during the uncertain times and talks about how COVID-19 is bringing back family time and how there has been some positives to this pandemic in that aspect.
New Tags