Shawnda Kaeding, Quality Engineering Technician, November 2020
Item
Title
Shawnda Kaeding, Quality Engineering Technician, November 2020
Description
Oral history, Quality engineering technician Shawnda Kaeding. Fall Creek, Wis.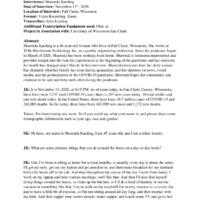 Shawnda Kaeding, Quality Engineering Technician, November 2020
Abstract
Shawnda Kaeding is a 46-year-old woman who lives in Fall Creek, Wisconsin. She works at TDK-Hutchinson Technology Inc. as a quality engineering technician. Since the pandemic began in March of 2020, Shawnda has been working from home. Shawnda is immunocompromised and provides insight into the fear she experienced at the beginning of the pandemic and her concerns for health has changed since March. In her interview, Shawnda discusses how her daily routine has changed, what her family has done during quarantine, and her opinions on news, social media, and the politicization of the COVID-19 pandemic. Shawnda hopes her community can continue to be safe and help each other during the pandemic.
New Tags