Mark Kompsie, College Graduate, November 2020
Item
Title
Mark Kompsie, College Graduate, November 2020
Description
Oral history, College graduate Mark Kompsie. Madison, Wis.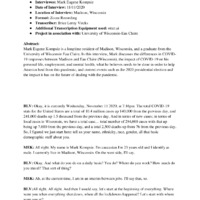 Mark Kompsie, College Graduate, November 2020
Abstract
Mark Eugene Kompsie is a longtime resident of Madison, Wisconsin, and a graduate from the University of Wisconsin Eau Claire. In this interview, Mark discusses the differences in COVID-19 responses between Madison and Eau Claire (Wisconsin), the impact of COVID-19 on his personal life, employment, and mental health, what he believes needs to be done in order to help America heal from this pandemic, and current events such as the 2020 presidential election and the impact it has on the future of dealing with the pandemic.
New Tags