Morgan Kallenbach, Childcare Teacher, December 2020
Item
Title
Morgan Kallenbach, Childcare Teacher, December 2020
Description
Oral history, Childcare teacher Morgan Kallenbach. Eau Claire, Wis.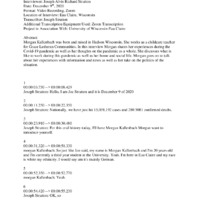 Morgan Kallenbach, Childcare Teacher, December 2020
Abstract
Morgan Kallenbach was born and raised in Hudson Wisconsin. She works as a childcare teacher for Grace Lutheran Communities. In this interview Morgan shares her experiences during the Covid-19 pandemic as well as her thoughts on the pandemic as a whole. She discusses what is like to work during this pandemic as well as her home and social life. Morgan goes on to talk about her experiences with information and news as well as her take on the politics of the situation.
New Tags