Danielle O'Connell, Bride, November 2020
Item
Title
Danielle O'Connell, Bride, November 2020
Description
Oral history, Bride Danielle O'Connell. New Brighton, Min.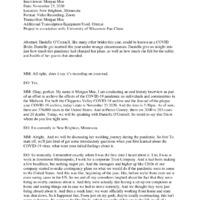 Danielle O'Connell, Bride, November 2020
Abstract
Danielle O'Connell, like many other brides this year, could be known as a COVID Bride. Danielle got married this year under strange circumstances. Danielle give us insight into just how much this pandemic had changed her plans, as well as how much she felt for the safety and health of her guests that attended.
New Tags