Kevin Dombrowski, Retail Worker, November 2020
Item
Title
Kevin Dombrowski, Retail Worker, November 2020
Description
Oral history, Retail worker Kevin Dombrowski. Knowlton, Wis.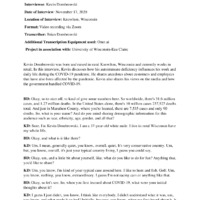 Kevin Dombrowski, Retail Worker, November 2020
Abstract
Kevin Dombrowski was born and raised in rural Knowlton, Wisconsin and currently works in retail. In this interview, Kevin discusses how his autoimmune deficiency influences his work and daily life during the COVID-19 pandemic. He shares anecdotes about customers and employees that have also been affected by the pandemic. Kevin also shares his views on the media and how the government handled COVID-19.
New Tags