Reed Engle, Career Pursuer, December 2020
Item
Title
Reed Engle, Career Pursuer, December 2020
Description
Oral history, Career pursuer Reed Engle. Madison, Wis.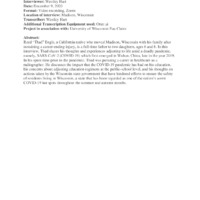 Reed Engle, Career Pursuer, December 2020
Abstract
Reed "Thad" Engle, a California native who moved Madison, Wisconsin with his family after sustaining a career-ending injury, is a full-time father to two daughters, ages 6 and 8. In this interview, Thad shares his thoughts and experiences adjusting to life amid a deadly pandemic, namely, SARS-CoV-2 (COVID-19) which first emerged in Wuhan, China, late in the year 2019.In his spare time prior to the pandemic, Thad was pursuing a career in healthcare as a radiographer. He discusses the impact that the COVID-19 pandemic has had on his education, his concerns about adjusting education regimens at the public-school level, and his thoughts on actions taken by the Wisconsin state government that have hindered efforts to ensure the safety of residents living in Wisconsin, a state that has been regarded as one of the nation's worst COVID-19 hot spots throughout the summer and autumn months.
New Tags