Cristiano Favazza, College Student, November 2020
Item
Title
Cristiano Favazza, College Student, November 2020
Description
Oral history, College student, Christiano Favazza. Saint Paul, Min.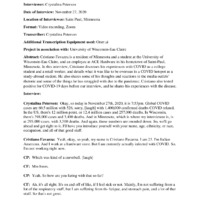 Cristiano Favazza, College Student, November 2020
Abstract
Cristiano Favazza is a resident of Minnesota and a student at the University of Wisconsin-Eau Claire, and an employee at ACE Hardware in his hometown of Saint-Paul, Minnesota. In this interview, Cristiano discusses his experiences with COVID as a college student and a retail worker, and details what it was like to be overseas in a COVID hotspot as a study-abroad student. He also shares some of his thoughts and reactions to the media outlets' rhetoric and some of the things he has struggled with due to the pandemic. Cristiano also tested positive for COVID-19 days before our interview, and he shares his experiences with the disease.
New Tags