Joanne Jahnke-Wegner, Historian, November 2020
Item
Title
Joanne Jahnke-Wegner, Historian, November 2020
Description
Oral history, Historian Joanne Jahnke-Wegner. Pepin County, Wis.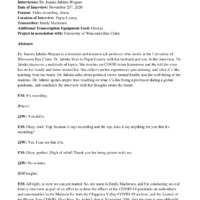 Joanne Jahnke-Wegner, Historian, November 2020
Abstract
Dr. Joanne Jahnke-Wegner is a historian and tenure-track professor who works at the University of Wisconsin Eau Claire. Dr. Jahnke lives in Pepin County with her husband and son. In this interview, Dr. Jahnke discusses a multitude of topics. She touches on COVID in her hometown and the toll the virus has on her family and those around her. She reflects on her experiences quarantining, and what it's like teaching from her home. Dr. Jahnke talks about political views, mental health, and the well-being of her students. Dr. Jahnke spends ample time touching on what it's like being a professor during a global pandemic, and concludes the interview with her thoughts about the future.
New Tags