Cassie Nyhus, Radiology, November 2020
Item
Title
Cassie Nyhus, Radiology, November 2020
Description
Oral history, Radiology Cassie Nyhus. Bloomer, Wis.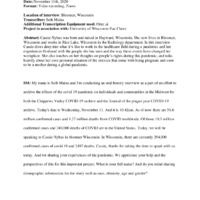 Cassie Nyhus, Radiology, November 2020
Abstract
Cassie Nyhus was born and raised in Hayward, Wisconsin. She now lives in Bloomer, Wisconsin and works in Rice Lake, Wisconsin in the Radiology department. In this interview Cassie dives deep into what it's like to work in the healthcare field during a pandemic and her experiences firsthand with the people she has seen and the way these events have changed her workplace. She also touches on her thoughts on people's rights during this pandemic, and talks heavily about her own personal situation of the stresses that come with being pregnant and soon to be a mother during a global pandemic.
New Tags