Janet Pope, Educational Assistant, November 2020
Item
Title
Janet Pope, Educational Assistant, November 2020
Description
Oral history, Educational Assistant Janet Pope. Altoona, Wis.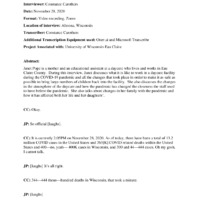 Janet Pope, Educational Assistant, November 2020
Abstract
Janet Pope is a mother and an educational assistant at a daycare who lives and works in Eau Claire County. During this interview, Janet discusses what it is like to work in a daycare facility during the COVID-19 pandemic and all the changes that took place in order to make it as safe as possible to bring large numbers of children back into the facility. She also discusses the changes in the atmosphere of the daycare and how the pandemic has changed the closeness the staff used to have before the pandemic. She also talks about changes in her family with the pandemic and how it has affected both her life and her daughters'.
New Tags