Wade Pitrucha, Marine Corps veteran, November 2020
Item
Title
Wade Pitrucha, Marine Corps veteran, November 2020
Description
Oral history, Marine Corps veteran Wade Pitrucha. Barron, Wis.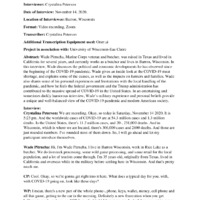 Wade Pitrucha, Marine Corps veteran, November 2020
Abstract
Wade Pitrucha, Marine Corps veteran and butcher, was raised in Texas and lived in California for several years, and currently works as a butcher and lives in Barron, Wisconsin. In this interview, Wade discusses the political and economic developments he has observed since the beginning of the COVID-19 pandemic. Wade gives an inside look at the COVID-19 meat shortage, and explains some of the causes, as well as the impacts on farmers and families. Wade also shares some of his personal experiences and frustrations with the local handling of the pandemic, and how he feels the federal government and the Trump administration has contributed to the massive spread of COVID-19 in the United States. In an entertaining and sometimes darkly humorous interview, Wade's military experience and personal beliefs provide a unique and well-balanced view of the COVID-19 pandemic and modern American society.
New Tags