Alison Schatzman, Cashier, November 2020
Item
Title
Alison Schatzman, Cashier, November 2020
Description
Oral history, Cashier Alison Schatzman. Franksville, Wis.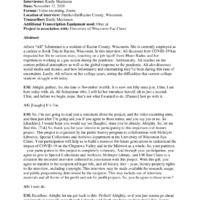 Alison Schatzman, Cashier, November 2020
Abstract
Alison "Ali" Schatzman is a resident of Racine County, Wisconsin. She is currently employed as a cashier at Kwik Trip in Racine, Wisconsin. In this interview, Ali discusses how COVID-19 has impacted her life in various ways, touching on a job layoff from iHeart Radio, and her experiences working at a gas station during the pandemic. Additionally, Ali touches on the current political atmosphere as well as the global response to the pandemic. Ali also discusses social media and memes, and how informative and entertaining they've been during this time of uncertainty. Lastly, Ali reflects on her college years, noting the difficulties that current college students struggle with today.
New Tags