Braelyn Swedlund, Lead Infant Teacher, December 2020
Item
Title
Braelyn Swedlund, Lead Infant Teacher, December 2020
Description
Oral history, Lead infant teacher Braelyn Swedlund. Eau Claire, Wis.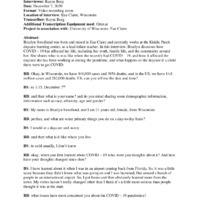 Braelyn Swedlund, Lead Infant Teacher, December 2020
Abstract
Braelyn Swedlund was born and raised in Eau Claire and currently works at the Kiddie Patch daycare learning center, as a lead infant teacher. In this interview, Braelyn discusses how COVID – 19 has affected her life, including her work, family life, and the community around her. She shares what is was like when she recently had COVID – 19, and how it affected the daycare she has been working at during the pandemic, and what happens to the daycare if a child there were to get COVID.
New Tags