John Verdon, Retired Teacher, November 2020
Item
Title
John Verdon, Retired Teacher, November 2020
Description
Oral history, Retired teacher, John Verdon. Lansing, IA.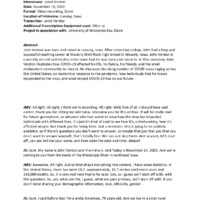 John Verdon, Retired Teacher, November 2020
Abstract
John Verdon was born and raised in Lansing, Iowa. After attending college, John had a long and successful teaching career at Waverly Shell-Rock High School in Waverly, Iowa. John Verdon is currently retired and resides in the town that he was born and raised in. In this interview, John Verdon illustrates how COVID-19 affected his life, his family, his friends, and the small midwestern community he lives in. He discusses the rising number of COVID cases raging across the United States, on leadership response to the pandemic, how individuals that he knows responded to the virus, and what impact COVID-19 has on our future.
New Tags