Jackie Weber, Occupational Therapist, December 2020
Item
Title
Jackie Weber, Occupational Therapist, December 2020
Description
Oral history, Occupational therapist Jackie Weber. Milwaukee, Wis.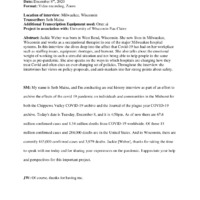 Jackie Weber, Occupational Therapist, December 2020
Abstract
Jackie Weber was born in West Bend, Wisconsin. She now lives in Milwaukee, Wisconsin and works as a occupational therapist in one of the major Milwaukee hospital systems. In this interview she dives deep into the affect that Covid-19 has had on her workplace such as staffing issues, equipment shortages, and burnout. She also talks about the emotional weight of working in such a stressful situation and not being able to help people in the same ways as pre-pandemic. She also speaks on the ways in which hospitals are changing how they treat Covid and often cites an ever-changing set of policies. Throughout the interview she intertwines her views on policy proposals, and anti-maskers into her strong points about safety.
New Tags