Chloe Ylitalo, College Student, November 2020
Item
Title
Chloe Ylitalo, College Student, November 2020
Description
Oral history, College student Chloe Ylitalo. Eau Claire, Wis.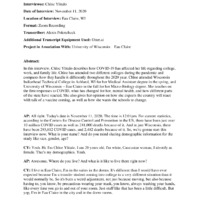 Chloe Ylitalo, College Student, November 2020
Abstract
In this interview, Chloe Ylitalo describes how COVID-19 has affected her life regarding college, work, and family life. Chloe has attended two different colleges during the pandemic and compares how they handle it differently throughout the 2020 year. Chloe attended Wisconsin Indianhead Technical College in Ashland, WI for her Medical Assistant degree in the spring, and University of Wisconsin – Eau Claire in the fall for her Micro-Biology degree. She touches on the first responses to COVID, what has changed for her, mental health, and how different parts of the state have reacted. She also gives her opinion on how she expects the country will react with talk of a vaccine coming, as well as how she wants the schools to change.
New Tags