Dang Yang, Director of Multicultural Affairs, November 2020
Item
Title
Dang Yang, Director of Multicultural Affairs, November 2020
Description
Oral history, Director of Multicultural Affairs Dang Yang. Eau Claire, Wis.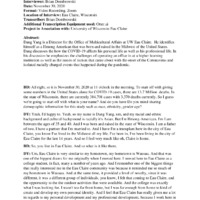 Dang Yang, Director of Multicultural Affairs, November 2020
Abstract
Dang Yang is a Director for the Office of Multicultural Affairs at UW Eau Claire. He identifies himself as a Hmong American that was born and raised in the Midwest of the United States. Dang discusses the how the COVID-19 affects his personal life as well as his professional life. In his discussion he emphasizes the challenges of operating an office in at a higher learning institution as well as the issues of racism that came about with the onset of the Coronavirus and isolated racially charged events that happened during the pandemic.
New Tags