Craig Zehms, Realtor, November 2020
Item
Title
Craig Zehms, Realtor, November 2020
Description
Oral history, Realtor Craig Zehms. Jersey City, N.J.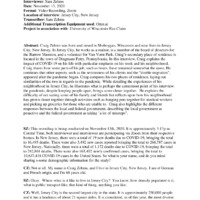 Craig Zehms, Realtor, November 2020
Abstract
Craig Zehms was born and raised in Sheboygan, Wisconsin and now lives in Jersey City, New Jersey. In Jersey City, he works as a realtor, is a member of the board of directors for the Barrow Mansion, and a volunteer for Van Vorst Park. Craig's secondary place of residence is located in the town of Dingmans Ferry, Pennsylvania. In this interview, Craig explains the impact of COVID-19 on his life with particular emphasis on his work and his neighborhood. Craig shares how some parts of his job, such as hours, have remained somewhat the same. He continues that other aspects, such as the seriousness of his clients and the "double migration", appeared after the pandemic began. Craig compares his two places of residence, laying out similarities of the two in regards to the pandemic. While detailing the experiences of his neighborhood in Jersey City, he illustrates what is perhaps the centermost point of his interview: the pandemic, despite keeping people apart, brings some closer together. He explains the difficulty of not seeing some of his family and friends but reflects upon how his neighborhood has grown closer together through activities such as banging pots together for medical workers and picking up groceries for those who are unable to. Craig also highlights the different responses between the local and federal government, describing the local government as proactive and the federal government as taking "a lot of missteps".
New Tags