Anonymous, ER Nurse, December 2020
Item
Title
Anonymous, ER Nurse, December 2020
Description
Oral history, ER Nurse anonymous. La Crosse, Wis.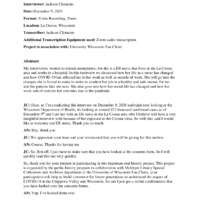 Anonymous, ER Nurse, December 2020
Abstract
My interviewee wanted to remain anonymous, but she is a ER nurse that lives in the La Crosse area and works in a hospital. In this interview we discussed how her life as a nurse has changed and how COVID-19 has affected her in her work as well as outside of work. She will go into the changes she is forced to make in order to conduct her job in a healthy and safe manor, for her and the patients that she sees. She also goes into how her social life has changed and how her work sort of restricts her activities due to the pandemic.
New Tags