Anonymous, High School Sophomore, December 2020
Item
Title
Anonymous, High School Sophomore, December 2020
Description
Oral history, High school sophomore anonymous. La Crosse, Wis.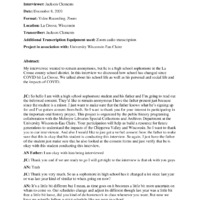 Anonymous, High School Sophomore, December 2020
Abstract
My interviewee wanted to remain anonymous, but he is a high school sophomore in the La Crosse county school district. In this interview we discussed how school has changed since COVID hit La Crosse. We talked about his school life as well as his personal and social life and the impacts of COVID.
New Tags