Anonymous, Tech Company Worker, November 2020
Item
Title
Anonymous, Tech Company Worker, November 2020
Description
Oral history, Tech Company Worker, anonymous. Sofia, Bulgaria.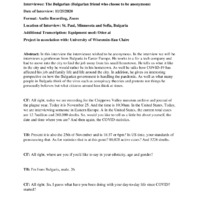 Anonymous, Tech Company Worker, November 2020
Abstract
In this interview the interviewee wished to be anonymous. In the interview we will be interviews a gentleman from Bulgaria in Easter Europe. He works in a for a tech company and had to move into the city to find the job away from his small hometown. He tells us what it like in the city and why he would rather be in his hometown. As well he talks how COVID-19 has affected his job and family life and life around the city. In addition, he gives on interesting perspective on how the Bulgarian government is handling the pandemic. As well as what many people in Bulgaria think of the virus such as conspiracy theories and protests not things he personally believes but what citizens around him think at times.
Other Media
New Tags