Jeremy Amble, Small Business Owner, May 2021
Item
Title
Jeremy Amble, Small Business Owner, May 2021
Description
Oral history, Small Business Owner Jeremy Amble. Barneveld, Wis.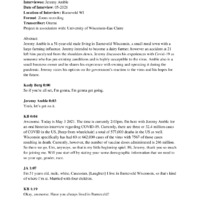 Jeremy Amble, Dairy Farmer, May 2021
Abstract
Jeremy Amble is a 51-year-old male living in Barneveld Wisconsin, a small rural town with a large farming influence. Jeremy intended to become a dairy farmer, however an accident at 21 left him paralyzed from the shoulders down. Jeremy discusses his experiences with Covid-19 as someone who has pre-existing conditions and is highly susceptible to the virus. Amble also is a small business owner and he shares his experience with owning and operating it during the pandemic. Jeremy states his options on the government's reaction to the virus and his hopes for the future.
New Tags