Charlene Bethke, Public Accountant, April 2021
Item
Title
Charlene Bethke, Public Accountant, April 2021
Description
Oral history, Public accountant Charlene Bethke. Muskego, Wis.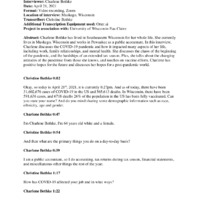 Charlene Bethke, Public Accountant, April 2021
Abstract
Charlene Bethke has lived in Southeastern Wisconsin for her whole life. She currently lives in Muskego, Wisconsin and works in Pewaukee as a public accountant. In this interview, Charlene discusses the COVID-19 pandemic and how it impacted many aspects of her life, including work, family relationships, and mental health. She discusses the chaos of the beginning of the pandemic, and the hardships of an extended tax season. Plus, she talks about the changing attitudes of the pandemic from those she knows, and touches on vaccine efforts. Charlene has positive hopes for the future and discusses her hopes for a post-pandemic world.
Site pages
New Tags