Kat Crandell, Minnetonka Public School paraprofessional, April 2021
Item
Title
Kat Crandell, Minnetonka Public School paraprofessional, April 2021
Description
Oral history, Minnetonka Public School paraprofessional Kat Crandell. Excelsior, Min.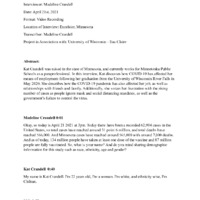 Kat Crandell, Minnetonka Public School paraprofessional, April 2021
Abstract
Kat Crandell was raised in the state of Minnesota, and currently works for Minnetonka Public Schools as a paraprofessional. In this interview, Kat discusses how COVID-19 has affected her means of employment following her graduation from the University of Wisconsin River Falls in May 2020. She describes how the COVID-19 pandemic has also affected her job, as well as relationships with friends and family. Additionally, she voices her frustration with the rising number of cases as people ignore mask and social distancing mandates, as well as the government's failure to control the virus.
Site pages
New Tags