Chris Delvin, RN Perioperative Manager, May 2021
Item
Title
Chris Delvin, RN Perioperative Manager, May 2021
Description
Oral history, RN Perioperative Manager Chris Delvin. Eau Claire, Wis.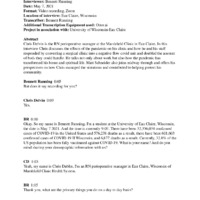 Chris Delvin, RN Perioperative Manager, May 2021
Abstract
Chris Delvin is the RN perioperative manager at the Marshfield Clinic in Eau Claire. In this interview Chris discusses the effects of the pandemic on his clinic and how he and his staff responded by converting a surgical clinic into a negative flow covid unit and doubled the amount of beds they could handle. He talks not only about work but also how the pandemic has transformed his home and spiritual life. Matt Schneider also joins midway through and offers his perspectives on how Chris managed the situations and contributed to helping protect his community.
Other Media
New Tags