Nic Zakrzewski, Student Custodian, April 2021
Item
Title
Nic Zakrzewski, Student Custodian, April 2021
Description
Oral history, Student Custodian Nic Zakrzewski. Eau Claire, Wis.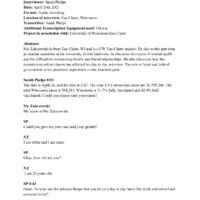 Nic Zakrzewski, Student Custodian, April 2021
Abstract
Nic Zakrzewski is from Eau Claire, WI and is a UW Eau Claire student. He also works part time as student custodian at the university. In this interview, he discusses the topics of mental health and his difficulties maintaining family and friend relationships. He also discusses how the transition to online classes has affected his day to day activities. The role of local and federal government in his pandemic experience is also touched upon.
Other Media
New Tags