Barbara Hartwick, Nursing Home Worker, April 2021
Item
Title
Barbara Hartwick, Nursing Home Worker, April 2021
Description
Oral history, Nursing Home Worker Barbara Hartwick. Eau Claire, Wis.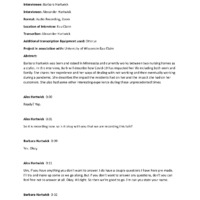 Barbara Hartwick, Nursing Home Worker, April 2021
Abstract
Barbara Hartwick was born and raised in Minnesota and currently works between two nursing homes as a stylist. In this interview, Barb will describe how Covid-19 has impacted her life including both work and family. She shares her experience and her ways of dealing with not working and then eventually working during a pandemic. She describes the impact the residents had on her and the impact she had on her customers. She also had some other interesting experience during these unprecedented times.
Site pages
New Tags