Maria Chópite, 3rd Grade Teacher, May 2021
Item
Title
Maria Chópite, 3rd Grade Teacher, May 2021
Description
Oral history, 3rd Grade Teacher Maria Chópite. Excelsior, Min.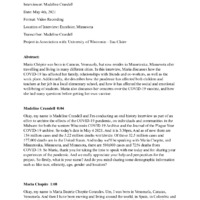 Maria Chópite, 3rd Grade Teacher, May 2021
Abstract
Maria Chópite was born in Caracas, Venezuela, but now resides in Minnetonka, Minnesota after travelling and living in many different cities. In this interview, Maria discusses how the COVID-19 has affected her family, relationships with friends and co-workers, as well as the work place. Additionally, she describes how the pandemic has affected both children and teachers at her job in a local elementary school, and how it has affected the social and emotional well-being of students. Maria also discusses her concerns over the COVID-19 vaccine, and how she had many questions before getting her own vaccine.
Site pages
New Tags