Allison Christenson, Nursing Home Worker, May 2021
Item
Title
Allison Christenson, Nursing Home Worker, May 2021
Description
Oral history, Nursing Home Worker Allison Christenson. Eau Claire, Wis.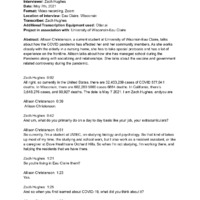 Allison Christenson, Nursing Home Worker, May 2021
Abstract
Allison Christenson, a current student at University of Wisonsin-Eau Claire, talks about how the COVID pandemic has affected her and her community members. As she works closely with the elderly in a nursing home, she has to take special protocols and has a lot of experience on the frontline. Allison talks about how she has managed school during the Pandemic along with socializing and relationships. She talks about the vaccine and government related controversy during the pandemic.
New Tags