Amanda Harding, College Student, May 2021
Item
Title
Amanda Harding, College Student, May 2021
Description
Oral history, College Student Amanda Harding. Eau Claire, Wis.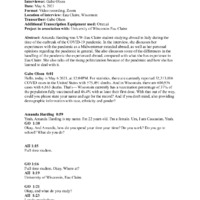 Amanda Harding, College Student, May 2021
Abstract
Amanda Harding was UW-Eau Claire student studying abroad in Italy during the time of the outbreak of the COVID-19 pandemic. In the interview, she discusses her experiences with the pandemic as a Midwesterner stranded abroad, as well as her personal opinions regarding the pandemic in general. She also discusses some of the differences in the handling of the pandemic she experienced abroad, compared with what she has experience in Eau Claire. She also talks of the rising politicization because of the pandemic and how she has learned to deal with it.
Site pages
New Tags