Tamara Harris, Retired Teacher, April 2021
Item
Title
Tamara Harris, Retired Teacher, April 2021
Description
Oral history, Retired Teacher Tamara Harris. Chippewa Falls, Wis.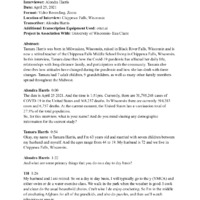 Tamara Harris, Retired Teacher, April 2021
Abstract
Tamara Harris was born in Milwaukee, Wisconsin, raised in Black River Falls, Wisconsin and is now a retired teacher of the Chippewa Falls Middle School living in Chippewa Falls, Wisconsin. In this interview, Tamara describes how the Covid-19 pandemic has affected her daily life, relationships with long-distance family, and participation with the community. Tamara also describes how attitudes have changed during the pandemic and how she has dealt with these changes. Tamara had 7 adult children, 9 grandchildren, as well as many other family members spread throughout the Midwest.
Site pages
New Tags