Liz Haynes, Cancer Patient, April 2021
Item
Title
Liz Haynes, Cancer Patient, April 2021
Description
Oral history, Cancer Patient Liz Haynes. Little Canada, Min.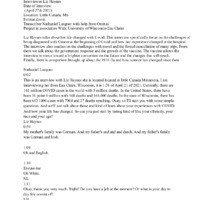 Liz Haynes, Cancer Patient, April 2021
Abstract
Liz Haynes talks about her life changed with Covid. This interview specifically focus on the challenges of being diagnosed with Cancer at the beginning of Covid and how her experience changed at the hospital. The interview also touches on the challenges with travel and the forced cancellation of many trips. From there we talk about the government response and the growth of the vaccine. The vaccine allows the interview to move toward a brighter conversion on the future and the changes that will result. Finally, there is comparison brought up about the 1918 flu and how science has changed since then.
Site pages
New Tags