Bekah Henn, College Student, April 2021
Item
Title
Bekah Henn, College Student, April 2021
Description
Oral history, College Student Bekah Henn. Eau Claire, Wis.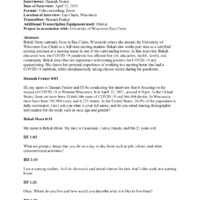 Bekah Henn, College Student, April 2021
Abstract
Bekah Henn currently lives in Eau Claire, Wisconsin where she attends the University of Wisconsin-Eau Claire as a full-time nursing student. Bekah also works part time as a certified nursing assistant at a nursing home in one of the surrounding towns. In this interview Bekah discusses how the COVID-19 pandemic has affected her job, education, health, family, and community. Bekah describes her experience with testing positive for COVID-19 and quarantining. She shares her personal experience of working in a nursing home that had a COVID-19 outbreak, while simultaneously taking classes online during the pandemic.
New Tags