Lucy Hobbs, College Student, May 2021
Item
Title
Lucy Hobbs, College Student, May 2021
Description
Oral history, College Student Lucy Hobbs. Eau Claire, Wis.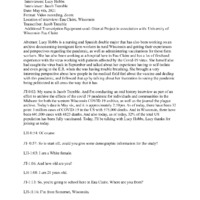 Lucy Hobbs, College Student, May 2021
Abstract
Lucy Hobbs is a nursing and Spanish double major that has also been working on an archive documenting immigrant farm workers in rural Wisconsin and getting their experiences and perspectives regarding the pandemic, as well as administering vaccinations for those farm workers. She has also been working at a hospital here in Eau Claire and has a lot of firsthand experience with the virus working with patients affected by the Covid-19 virus. She herself also had caught the virus back in September and talked about her experience having to self-isolate and even going to the E.R. when she was having trouble breathing. She brought a very interesting perspective about how people in the medical field feel about the vaccine and dealing with this pandemic, and followed that up by talking about her frustration in seeing the pandemic being politicized in all areas the way that it has.
New Tags